ART SUCCESS
---
The annual Year 13 A Level Art Exhibition returned to Prince Henry's with students from the Fine Art and photography courses showcasing their work to invited guests, including parents and carers, Governors and Otley's new Town Mayor.
The exhibition runs through school in the Serpentine Corridor and is an inspiration to the younger years. Art forms of all kinds are represented, with pencil drawings, oil and water colour paintings, batik, photographs, collage, sculpture and more adorning the walls.
"Art and Photography are always hugely popular in our Sixth Form, with some incredible talents coming through – and this year is no exception. We look forward to seeing some fantastic results this Summer and to watching their careers in Art flourish, as many students continue to study or develop their Art after leaving us. It was lovely to see so many people enjoying the exhibition and to welcome the Town Mayor to school – we know her as an Art enthusiast!" said Shane Green, Faculty Leader for Art.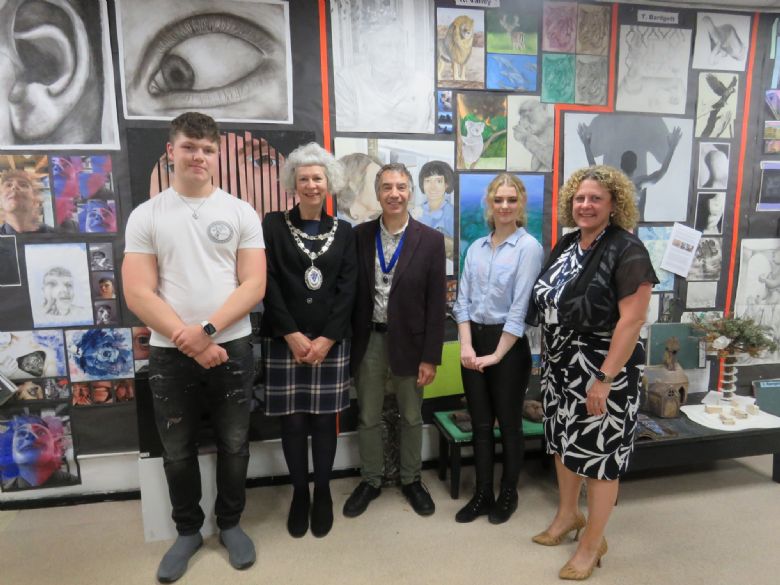 "We were so impressed with the high standard of art work in the A-level art show tonight. Thank you for inviting us - my first duty as Mayor & consort after yesterday's official Mayor-Making! Some incredibly talented young artists & ideas! Well done!" tweeted Linda Hoare, after the event.
There are more than 30 students taking A Level Art or Photography at Prince Henry's this year. Of these, 18 students are going on to courses in the creative industries, including 3 architects, 10 students are going to the Leeds Arts University's Foundation course, with other students going on to courses in film, digital media and animation.