Community Astro Turf Pitch
---
Prince Henry's Grammar School, in partnership with the Football Foundation and local sports clubs, is moving forward with an exciting project to build a new 3G AstroTurf pitch at the school. The project has the support of the RFU, Sports Chevin and several local clubs who are keen to use the facilities for training and matches. These include Otley Town Football Club, Otley Zebras Rugby, Rugby League, Pool AFC, Menston Junior Football Club, Otley Athletics Club and more. We are also part of the Sport Chevin Group, who are working to improve sports facilities across the town.
Update March 2023
Work has now begun. The key elements of the expected programme of works are as follows:
Project Start/February to mid-March: Earthworks (excavation/removal & relocation of existing top soil) & establishment of tree protection zones.
Mid-March to mid-April: Drainage works including pond, specialist membrane and hydrobrake chamber, pitch sub base installation, start of perimeter fencing installation, lighting columns (including testing) & hard landscape installation
Mid-April to mid-May: Continuation of perimeter fencing installation, pitch artificial surface & related work installation
Mid-May to late-June/July: Installation of acoustic fence, landscaping, wildlife habitat installation, final testing (including pitch & lighting)
July – Handover to Prince Henrys Grammar School and Community Pitch Steering Group.
These times and dates are subject to change, due to adverse weather conditions etc. For any further information, please contact Pippa McPherson at school.
Update January 2023
We are now in a position to confirm the date for the start of the building of the Community 3G pitch as Monday 20th February 2023. The contractors anticipate a 15-18 week build time, which takes the build through to the end of June/early July.
As per the planning permission from Leeds City Council, the hours of building work are 08:00 to 18:00 weekdays, 09:00 – 14:00 Saturdays with no Sunday/Bank holiday construction.
If you have any questions at this stage, please do not hesitate to contact Pippa McPherson, Admin Manager: Community Engagement, at school.
Update January 2022
We are delighted that, after a delay of several years, we received planning permission for the Community 3G pitch based at Prince Henry's in November. The pitch, which includes a rugby shock pad, will greatly enhance the work of our PE Faculty – both in curriculum time and after school – and provide significant benefits for our partner community clubs, primary schools and local people, through planned new activities.
As well as the more obvious benefits for physical activity, the additional environmental benefits of the wildlife buffer zone, including swift boxes, bat corridors, a wildlife pond and apple orchard, will significantly enhance the school site and contribute to our sustainability plan.
We are hopeful of securing partnership funding for the vast majority of this £750,000 project from the Football Foundation and Sport England – we are unlikely to secure this funding if we cannot demonstrate that our wider community supports the initiative. We are working with our local partner clubs, Otley Town Juniors, Weston Lane JFC and Pool JFC to raise money and are approaching Otley Town Council for support. This is our only opportunity to bring this exciting project to life, after 6 years of work with our community partners.
A project of this size cannot be achieved without the support of our school community, so we are writing to ask you to help us, if you can, with a donation towards this amazing project. Every child in school will use the facility and every child will enjoy the benefits of the wider improvement to our school site.
If you are able to make a donation, of whatever size, please go your child's Scopay account and select the Community 3G Pitch Fundraiser to make your donation.
If you are unable to use Scopay to donate, or have friends or relatives who would like to donate, please send a transfer the money to our Bank:
Account Name: Collaborative Learning Trust
Sort Code: 30-65-22
Account Number: 49903760
Reference: 3G Pitch
We have invested significantly in the PE Faculty in the last year, with the refurbished netball courts and replacing the roof on the gym and, shortly, the swimming pool. If we are unable to raise the full amount needed to build the 3G pitch, the money donated will be used to improve PE facilities in school and to deliver some of the environmental benefits embedded in the pitch project.
We are aware that, for families as well as school, the last two years have been particularly challenging - any donation that you can make will be doubly appreciated.
Help us turn this - into this!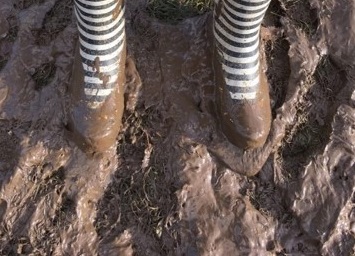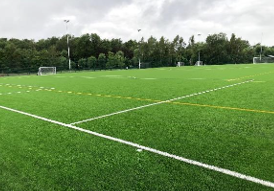 The clubs are also raising money for the pitch through a community crowdfund here.
Update January 2021
Following delays due to the pandemic, our contractors have now submitted a planning application for the community 3G pitch at Prince Henry's, with the support of our local partners and the Football Foundation. The planning application is now live for comment on the Leeds City Council Planning Portal 20/08447/FU.
The application includes several modifications from the application we submitted two years ago, including:
The pitch has been rotated to move it further from the majority of the neighbouring housing;
The acoustic fencing is being extended, to further reduce any noise;
The lighting has been further upgraded, with the lux level now reaching nil at ground level before the tree line and there will be no lighting from May to Sept inclusive and 8pm curfew in October and April.
There is an extensive environmental package, including a range of measures to support local wildlife and biodiversity.
The proposed opening hours are 9am to 10pm Monday to Friday, 9am to 8pm Sat and Sunday.
The ball fencing is to be fitted with rubber washers to reduce noise
As before:
The pitch will be use primarily by Otley sports clubs. Leeds Utd and Bradford City may run development sessions or holiday camps for the young people of Otley.
The proceeds from the pitch are reinvested into the pitch to make it sustainable. The business plan is put together with the football foundation to show that it doesn't make a loss/generate large profit.
This facility will greatly improve the health and well-being of large numbers of the community through increased physical activity. Young to old, male and female.
Following the publication of some inaccuracies on local forums, the organisations involved in the bid have created this leaflet.
Update July 2020
Following a year's pause while a further ecological surveys took place and the lockdown due to COVID-19, the project to build a community Astro Turf pitch at Prince Henry's Grammar School will be moving forward over the next few months.
We are currently securing tenders for the pitch, with a view to seeking planning permission in September 2020, in the hopes of the pitch being in use from summer 2021.
You can find a summary document and indepth FAQs at the bottom of this page.
We are very pleased to be able to move forward with the project to build the pitch, with the support of our local partners. The ecological survey shows that the pitch will have a net biodiversity gain, as our planting and ecological plans mature.
The pitch will improve access to activity for young and old alike, increase opportunities for female sport, and will have real impact on the quality of facilities in Otley, going some way to bring Otley residents nearer to the opportunities which other people enjoy in their local area.
Update January 2020
Following an analysis of the results of the extended ecological survey, we have now met with the Football Foundation and are preparing to move forwards with an amended proposal for the Astro Turf project with our other partners in the next few months. This will include a commitment to implementing a range of ecological mitigation measures.
We will be submitting a request for planning pre-application advice to Leeds City Council very shortly. Once we have received initial advice from the Planning Department, we will be able to move forwards with finalising the detailed plans for the pitch and additional fundraising.
We would hope to be able to apply for full planning permission in the spring of 2020 with a view to building the pitch in the late summer or autumn of 2020, for use in January 2021. There will be opportunities for members of the community to make their views known throughout the process.
Update December 2019
As part of the planning approval process, we were advised to undertake further ecological surveys before proceeding with the application. These have been carried out over the past couple of terms, and we are now reviewing the conclusions and recommendations to determine the viability of the project. A decision will be made early in the new year regarding next steps.
We very much hope that it will be possible to provide this facility for the school and local community. However, in the event that the project is not able to proceed, all monies raised through last year's fundraising activities will be used for other initiatives to improve community sports provision in the local area, in consultation with the Student Council.
Update November 2018
Work and plans are progressing on the proposal for a FIFA standard 3G pitch based at Prince Henry's. We have now instructed stages 3 and 4 which involves preparing to submit a planning application and putting the project out to tender in conjunction with the Football Foundation.
The new pitch would be a FIFA standard football surface with a shock pad underneath to comply with IRB guidelines and therefore allow contact rugby to take place. In addition to these two sports, a variety of other sporting activities such as athletics, rounders, etc could be played on the pitch.
If this project goes ahead, it will be located at the front of school on the existing rugby pitch and the surface would be ready to use by September 2019.
The facility would provide a floodlit, FIFA standard full size football pitch, for both the school curriculum (and feeder primaries) and community use. It would also provide a training and match play facility for local grassroots clubs during evenings, weekends and holidays. There are several 'key partner' sports clubs from the local area who are involved in the project, including Otley Town FC, Otley Zebras, Weston Lane FC, Pool AFC, Otley RUFC and Menston FC Girls. It also has the support of Leeds City Council, Sport Chevin and the RFU.
It is anticipated that at least 50% of the cost of the project would be met through funding from the Football Foundation. We are also hoping to secure investment from Otley Town Council, and are preparing to submit a grant application to Sport England. In addition, we are asking for financial support from key partner clubs. The school has also selected "community sport" as the focus of its own fundraising efforts this year, with a view to supporting the project.
This is a fantastic opportunity for the school and community to receive some much needed investment in all-weather sports facilities and will give so many people, old and young, the opportunity to remain active through the winter months.
Initial Meeting May 2018
The drop in Information Meeting was held in Prince Henry's Main Hall from 6.00pm until 7.30pm on Wednesday 16 May 2018. Residents were invited to drop in at any time between these hours, to see displays of information and talk to staff.
"We are really excited to be moving forward with trying to build a 3G pitch at Prince Henry's, for the use of school and the local community. The Football Foundation have identified that this area is in need of such a facility and are supporting us in our ambition. If the project goes ahead, we may even be able to have the pitch up and running for September 2019. We hope that interested residents will come and meet with us, so that we can show them our early ideas and bring them up to date with our progress." said Dave Curtis, Faculty Leader for PE at Prince Henry's.
"Otley Town Football Club is fully behind the 3G pitch project and have already committed to taking a substantial number of hours. This is a facility which will benefit both the senior and junior sides at the club. Currently our senior teams have to train on 3G at Horsforth during the winter months, so having the new facilities on our doorstep will be a huge bonus. Not only that, but our junior teams will be able to train more or less in any weather without fear of cancellation. This is a long overdue development for Otley as a town, and it has been fantastic to see a number of the sports clubs working together alongside Sports Chevin and the Prince Henry's to make this happen. "said Kai Arter, Chair of Otley Town Football Club.
The meeting was also be attended by representatives from the newly revitalised Sports Chevin, which has developed into a group including sports clubs from across the town, Prince Henry's. Sports Chevin meets regularly to discuss practical ways of developing the sporting facilities and opportunities for everyone in Otley and the surrounding area.
For more details or if you are a sports club who would like to join the Sports Chevin Group, please contact Pippa McPherson, Admin Manager: Community Engagement, at Prince Henry's on 01943 463524.