Destinations - the Future
---
Students at Prince Henry's receive excellent careers advice and guidance which helps them to move on to their chosen destination.
Examination results obviously form a key part of this and we are in the top 25% of Sixth Forms in the country for 'Value added' – this means that more of our students made more progress than 3/4 of other schools. Our progress is well above average across both A Level and Vocational courses.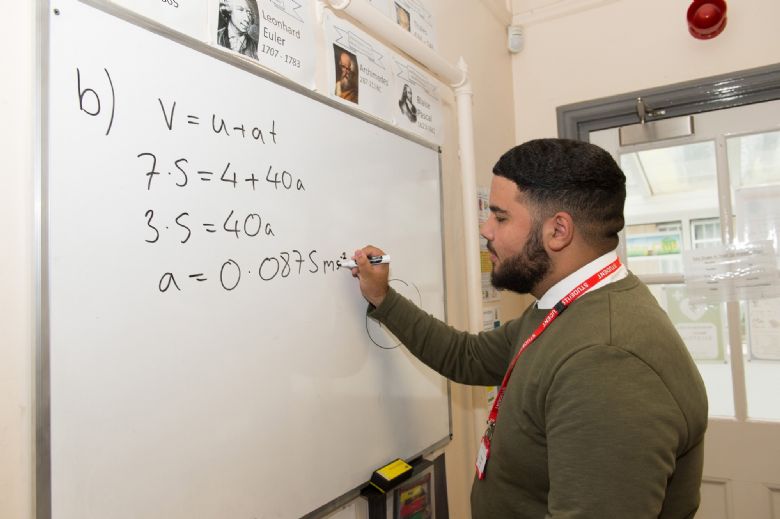 At the last count, we had the lowest figures in Leeds for students who are not in employment, education or training after leaving us.
Pathways
Our Sixth Form Pathways programme allows us to offer students targeted support for their chosen route, with dedicated coordinators for Oxbridge, Professional Academic (Medical), Open Options, Sports Professional and Professional Vocational routes. The specialist advice given meant that more than one third of our students went to top Universities last year, and we regularly send students to Oxford, Cambridge, Durham, St Andrews and other highly rated institutions.
Where are they now?
Last year, over 99% of students gained places at their chosen university and our experience Sixth Form team guided the others through Clearing, finding courses and universities to meet their needs. 40% of our 2021 students are at Russell Group universities. 98% of 2022 students are in education, employment or training, with several taking up high quality apprenticeships.
You can read an article in The Guardian about the support that one of our students received from our Sixth Form team when he didn't quite achieve what he wanted here.
A full list of destinations for 2022 is set out below.
Year 13 Finance
As you head for University, don't forget to apply for your student finance in plenty of time. Everything you need to know is here:

Student destinations 2022
Accounting and Finance

Lancaster

Accounting, Finance and Economics foundation

Northumbria

Accounting, finance, Economics foundation

Northumbria

Animation

Leeds Arts University

Applied Equine Management

Bishop Burton

Apprenticeship

11 students

Architecture

Liverpool

Architecture

Sheffield Hallam

Architecture

Sheffield

Art Foundation

Leeds Arts University

Art Foundation

Leeds Arts University

Art Foundation

Leeds Arts University

Art Foundation

Leeds Arts University

Art Foundation

Leeds Arts

University

Art Foundation

Leeds Arts

University

Art Foundation

Leeds Arts University

Art Foundation

Leeds Arts

University

Art Foundation

Leeds Arts University

Audio Engineering

Leeds Beckett

Biology and Climate Change

Aberystwyth

Business Accounting with Finance

Leeds Beckett

Business and Psychology

Sheffield Hallam

Business Economics

Leeds Beckett

Business Economics

Bangor

Business Management with Marketing

Leeds Beckett

Business Studies and Finance

Stirling

Business with Finance

Liverpool John Moore

Chemical Engineering

Imperial

Chemistry

Newcastle

Chemistry with year abroad

Nottingham

Computer Science

Northumbria

Computer Science

York

Computer Science

University City London

Computer Science

Liverpool

Computer Science

Nottingham

Contemporary History and Politics

Salford

Criminology

Leeds Beckett

Criminology

Nottingham

Criminology

Liverpool

Cultural and Media Studies

Leeds

Degree Apprenticeship

3 students

Economics

Durham

Economics

Stirling

Economics

York

Economics

Northumbria

Employment

12 students

English Language

Liverpool

English Language and Linguistics

York

English/Linguistics

York

Experimental Psychology

Oxford

Fashion Design

Leeds Arts University

Film Production

Salford

Financial Mathematics

Sheffield

Fine Art

Nottingham Trent

Gap Year

17 students

Geography

Birmingham

Geography

Edge Hill

Geography with Business

Nottingham

German and Spanish

Oxford

Golf

Ewingate University USA

Health & Social Care

Leeds City College

Health and Human Sciences

Sheffield

History

York St John

History

Bristol

History

Oxford

History, Philosophy, Politics

Lancaster

International Relations with Spanish

Liverpool

Journalism

Nottingham Trent

Law

Hull

Law

Sheffield

Law

Derby

Law

Newcastle

Law and Criminology

Sheffield

Law Foundation

Northumbria

Magazine Journalism

University of the Arts London

Management with HR Management

Bangor

Marketing and Management

Newcastle

Marketing Management

Leeds Beckett

Mathematics

Liverpool

Mathematics

Cambridge

Mechanical Engineering

Nottingham Trent

Mechanical Engineering

Newcastle

Mechanical Engineering

Sheffield

Mechanical Engineering

Sheffield

Medicine

Birmingham

Medicine

Sheffield

Midwifery

Leeds

Modern Languages

King's College

Modern Languages

Leeds

Music Performance and Production

Leeds Beckett

Music Production Freelance

Nursing

De Montfort

Nutrition

Leeds Beckett

Nutrition and exercise

Salford

Orthoptics

Liverpool

Physics and Astrophysics

Sheffield

Physiotherapy

Northumbria

Physiotherapy

Manchester Metropolitan

Primary Education

Edge Hill

Primary Education

York St John

Professional Climber

Professional Cyclist

Professional Gymnast for Team GB

Psychology

Birmingham

Psychology

Chester

Psychology

Liverpool John Moores

Psychology

Birmingham City

Psychology

Leeds Trinity

Psychology and Child Development

Staffordshire

Psychology and Sociology

Aberystwyth

Public Health

Manchester

Public Health

Liverpool John Moore

Real Estate and Property Management

Leeds Beckett

Sport and Exercise Nutrition foundation

Leeds Beckett

Sport and Exercise Science

Leeds Beckett

Sport Foundation Year

Northumbria

Sports Coaching

Leeds Beckett

Theatre

York

Zoology

Bangor