Mathematics
---
FACULTY LEADER: Mr A Fishburn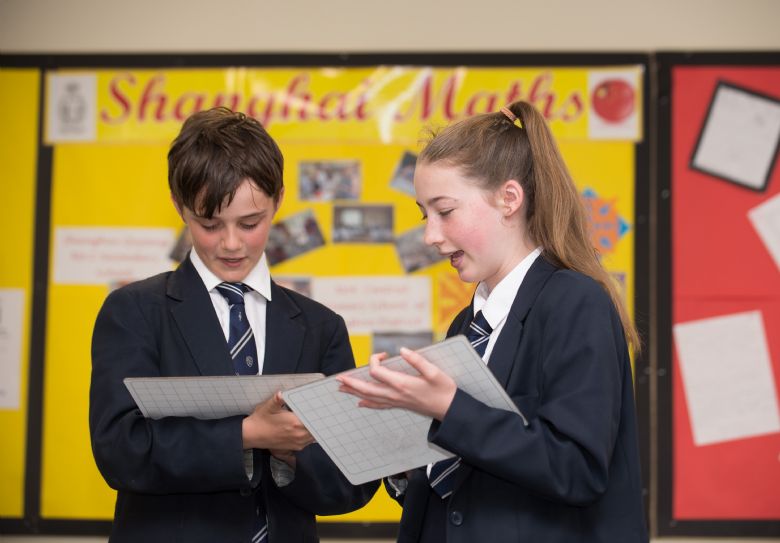 Maths is, without a doubt, one of the most important subjects studied. You should be able to count on your maths ability in all walks of life. Maths isn't just numbers... it's about thinking skills, too. Good mathematicians are logical thinkers and problem solvers. Mathematicians are essential to make society function well.
KS3 Curriculum
Our scheme follows the National Strategy Framework for Mathematics. Year 7 and 8 follow the new curriculum and Year 9 start the AQA GCSE over 3 years (AQA - for more details of the new GCSE, see under KS4 Curriculum below).
We allocate students to ability groups to ensure that each student is in a set where they can be helped and encouraged to make good progress. In Year 7 and 9, set movements take place at the end of each half term, based upon half-termly test results, unit assessment results and the student's attitude to learning and home learning record. In Year 8, set movements are made termly, to match assessment times in Science. Decisions regarding Year 8 set movements are informed by an average of two half term tests, alongside the same criteria as those used in Year 7 and 9. Set movements are agreed between the Maths and Science faculties.
Unit assessments may be set in lessons or as home learning. All groups have half-termly tests which, in Year 9, reflect the GCSE specification.
KS4 Curriculum
Students sit three Modules, at either Higher or Foundation Tier. Higher Tier includes questions that will stretch the most able, whilst Foundation Tier focuses on core mathematical understanding and skills that all students should aim to master. There is no coursework element at either tier of entry. Students are required to sit three assessments at the end of Year 11. All three papers are one and half hours in length, with one of the three papers being non-calculator. For our most able mathematicians in the top set, we offer an additional qualification (Further Maths - AQA), which is delivered alongside the standard GCSE qualification. The exams for this course are also taken in the Summer of Year 11, when students sit two exam papers (one calculator and one non-calculator).
In Key Stage 4, students are assessed every half term. At the end of Year 10, students sit a reduced GCSE paper and in the December of Year 11, they sit a full mock exam. The results from each test, combined with teacher assessment, are used to make sure that every student is in the correct set and that they are following the correct tier of entry.
Students follow three possible routes:
Foundation Linear AQA GCSE: 1 non-calculator paper (1hr 45 mins) and 1 calculator paper (1hr 45 mins), sat in the summer of Year 11;
Higher Linear AQA GCSE: 1 non-calculator paper (1hr 45 mins) and 1 calculator paper (1hr 45 mins), sat in the summer of Year 11;
Higher Linear AQA GCSE plus AQA standalone Further Mathematics. Higher GCSE exams as above, plus 1 non-calculator paper (1hr 30 mins) and 1 calculator paper (2 hrs) for Further Maths qualification. All exams sat in the summer of Year 11.
KS5 Curriculum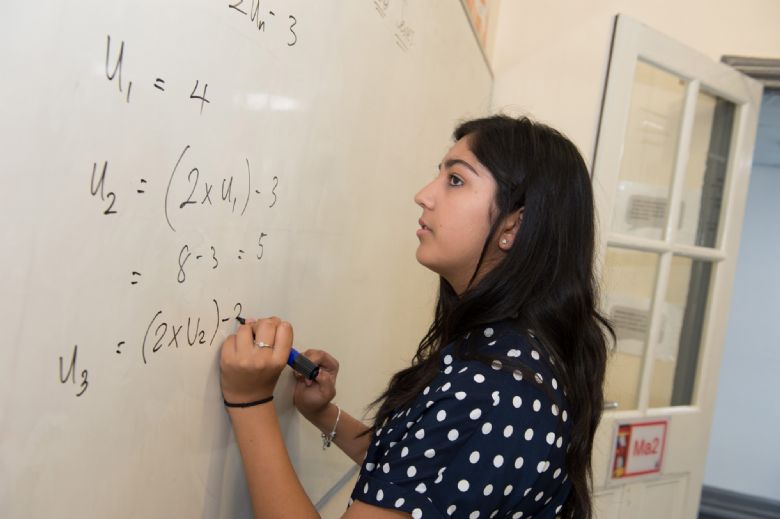 Our A level Mathematics course follows the Edexcel specification. The course comprises approximately two thirds Pure Mathematics, one sixth Statistics and one sixth Mechanics. Assessment is entirely by examination, consisting of three 2 hour examinations for the full A Level.
We run lessons in parallel on Pure Mathematics, Statistics and Mechanics from the start of Year 12. We test students in all three areas during the first half term to ensure that support and advice are in place, as required. There are regular tests and regular home learning is set throughout.
The A Level Further Maths is also studied by some students throughout KS5.
Core Maths is also available for students who want to continue to study Maths post GCSE, but not as a full A Level. Core Maths is especially helpful in supporting those students studying subjects that involve increased maths content such as Geography, Science and Product Design.
Enrichment
Throughout their Maths curriculum, students are encouraged to develop their thinking skills and use Maths to solve real-life problems. This functional, reasoning and problem solving element of the Maths curriculum is essential to producing effective mathematicians.
Many of our students are given the opportunity to enter national Maths Challenge competitions and attend various Maths inspiration lectures.