Pupil Premium
---
The Pupil Premium Strategy is a government funded strategy to narrow the achievement gap between those students identified as being from a disadvantaged background and other students. Schools receive Pupil Premium funding for those students who have been on Free School Meals at any point over the past 6 years and children who have been looked after or fostered at any point.
For the year 2021/22, the Pupil Premium has a value of £955 for Free School Meals students and £2345 for looked after children. The Government leaves it to the school to decide how the Pupil Premium money can be best used in order to narrow the attainment gap between Pupil Premium students and the rest of the students.
The DfE are clear that evidence indicates that using your Pupil Premium funding to improve teaching quality is the most effective way to improve outcomes for disadvantaged students. The Education Endowment Foundation (EEF) indicate that initiatives should focus on three areas (shown below) and these three areas form the basis of our Pupil Premium Strategy.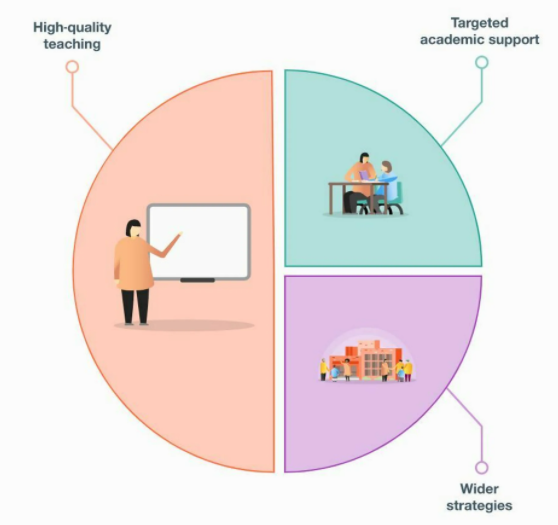 At Prince Henry's, results in 2019 (last published results due to Covid) followed a continuing trend of a narrowing of the gap in achievement between Pupil Premium students and other students. The Progress 8 figures for Pupil Premium students at Prince Henry's in 2019 indicates that they are making better progress than non-disadvantaged students nationally.
In academic year 2020/21, the government gave schools additional catch-up funding to support initiatives to help students to catch-up following Covid lockdowns. A strategy was put in place at school. A review of this strategy can be found here.
For the 2021/22 academic year, the catch-up scheme has been replaced by a 'Recovery Pupil Premium' fund which awards schools' additional money (£145 per student) based on the number of students identified as disadvantaged. This money is to further help schools narrow the gaps created by covid.
Please click on the link here to view details of the Prince Henry's Pupil Premium Strategy. Within this you can also see how the recovery Pupil Premium funding is intended to be used this year to help all students catch-up and a review of last year's Pupil Premium strategy.